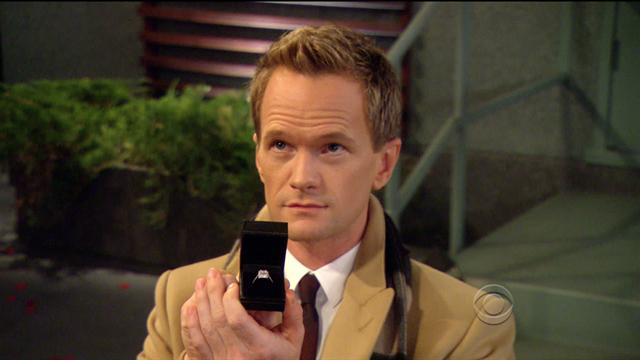 Hey everybody! Good news; we have our new columnist…er…two of'em actually. Big hand to our boys "Solo" and "Ross" (real names redacted at their request, up to you, fellas) who have kindly agreed to take the reigns. As I mentioned before, JD and I will occasionally chime in, and after the new year we will hook Solo and Ross up with profiles of their own. Anyway, enough of my yappin; Solo, take it away!
Jordan
===================================================
What was good:  The fact that I was right.  I'm sorry, but I LOVE being right. 
  Also, everything else.
What was not as good:  I thought the Lily and Marshall missing Marvin thing was a teeny bit weak.  Outside of that……nothing.  Perfect pair of episodes.
Further Thoughts: Wow.  I mean, I knew it was coming, but I still loved the execution.  And I'm glad Ted's FINALLY moved on.  Pay up, Marshall.  And don't you "Not yet" me, either, bud.
But as far as Ted letting go of it…it was great.  I know this has come in stages, and I suspect we MAY still see some wistfulness on Ted's part down the road.  But I'm hoping that it will be less about wanting Robin and more about wanting to finally be done with his quest.
Really, though, I just loved the hell out of both episodes.  The first one where we see Proto-Ted, the architecture teacher (embodying "Those who can, do.  Those who can't, teach."  Which isn't really true, but in this case it is.), and Seth Green's appearance as that weird "friend" many have from their past were all great, but also dovetailed nicely into the next episode.
For me, the second half of this episode is why I watch this show.  Lots of sitcoms bring the funny.  What little I've seen of The Big Bang Theory makes me chuckle now and then.  And both halves of the episode last night had moments where I laughed out loud (particularly some of the stuff with Ranjit).
But what separates HIMYM from the rest is its heart, and this episode nailed that on multiple fronts.  First, the relationship with Marshall and Ted was just…terrific.  It feels genuine and heartfelt, even though I know they're acting.  Second, the dynamic between Ted and Robin.
It was great to see Ted FINALLY let go, and to also prove that, at least some of the time, he knows Robin better than she knows herself.  Third, the dynamic between Barney and Robin.  Yes, it was rushed, but at the same time, it felt like it really fit to me.  You know it's gonna be a bumpy road forward (for at least the next 6-ish episodes, if not the remainder of the season), but while these two are idiots at times, they do genuinely love each other and are right for each other.
Lastly…Ted.  Ted alone.  The last man standing.  And the image of Ted staring out over the Manhattan skyline, at the top of the building he created…and STILL feeling like "It's just a building," to me that was one of the most powerful images this show has created, particularly when juxtaposed against the happiness of Marshall and Lily, but also now Barney and Robin.
So, sure, he built a building, but for Ted, for a guy like him, that's really not all that meaningful.  The thing from which he'll derive the most meaning in his life has yet to begin.  And that moment was captured perfectly by that image.
I'll add some more thoughts/speculation later (a little ways down the road(tm)) about where we're headed, but for now, like I said: this episode is why I watch this show.